Exit Agents Care About Community
Agents with Exit enjoy giving back to Community. At Exit Preferred Agents reach out to many charities and families in need. Exit Agents feed the hungry, clothe the homeless and those in need, send shoes to Ghana, donate money for playgrounds, walk for the Cure, assist with building homes with Habitat for Humanity, provide coats for kids and provide whatever it takes in times of disaster to those in need.
So not only, are Exit agents involved in assisting in real estate transactions with buyers and sellers, but also with our community and your community.
Giving is continuous and ongoing for Exit Agents!
Join us and become an Exit Agent today!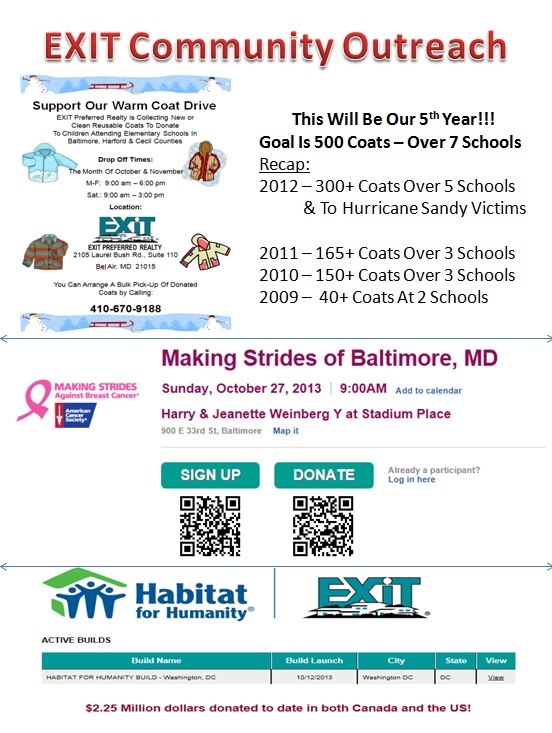 If you are interested in becoming an Exit Agent and if you are interested in building a rewarding career in Real Estate contact me and I will introduce you to the owners of Exit Preferred Realty, Sue and Craig Strobel.
Exit Realty can change your income and your life.
Take 10 With Exit. If you are thinking about a Real Estate Career, think about Exit Realty. For more information contact Jennifer Thompson at Exit Preferred Realty.
Don't Delay, Become an Exit Agent Today!
Please call Jennifer Thompson, Realtor with EXIT Preferred Realty.
You can become an Exit Agent no matter where you live!
Call Me Today and Exit Tomorrow. 443-801-6865